Buzzer Booster – Post Something, Anything, Everything
Select the Topic in Knob and  post, It is shown here too. Useful Knowledge Posts are Approved without any fee. This page is an Aggregator of all topics. Promotional Posts or Ads is 60 USD. If you wish to just promote a Product. Website or Service, Post right below at Buzz or use Beep. Focused Ads at Knob.
---
10 entries.
What is a Book without Pictures and Whatever can be a Website without some nice Videos or Applications. 😎 - delabs
FileZilla
free FTP solution. The FileZilla Client not only supports FTP, but also FTP over TLS (FTPS) and SFTP password and keys too. It is open source software. FileZilla Server is a free open source FTP and FTPS Server.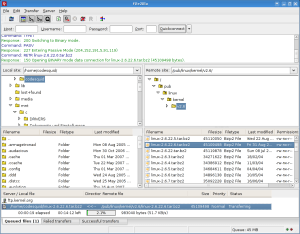 SFTP using SSH-2: Key based authentication. FileZilla can use an existing SSH key.
PuTTY - free SSH and Telnet client
PuTTY is a free and open-source terminal emulator, serial console and network file transfer application. It supports several network protocols, including SCP, SSH, Telnet, rlogin, and raw socket connection. It can also connect to a serial port.
WinSCP
is a free and open-source SSH File Transfer Protocol, File Transfer Protocol FTP, secure file transfer between a local computer and a remote server, it uses the Secure Shell protocol (SSH) and supports the SCP protocol and SFTP.
WinSCP is based on the implementation of the SSH protocol from PuTTY and FTP protocol from FileZilla
Mojeek
is a growing independent search engine which does not track you.
OpenStreetMap
is a map of the world, created by people like you and free to use under an open license.
If such a place does exist 🏝 maybe 😇
Pingdom Website Speed Test
The test is designed to help make your site faster by identifying what about a webpage is fast, slow, too big, and so on.
Learn to Type the SpongeBob Way! Type Your Way from A to Sea.
Dive right into the only step-by-step typing tutorial that's awash with waterlogged hilarity and all your favorite SpongeBob SquarePants friends! Now kids of all ages can learn to type the SpongeBob way!
SpongeBob SquarePants Typing
Kids Learn Independently and They'll Want to Keep on Typing!
Lessons, typing games, practice and drills
Posture, hand, and finger placement demos
3 challenge levels, plus help and encouragement
Progress Tracking for speed and accuracy
Welcome to Tech Media Network 🌈