Buzzer Booster – Post Something, Anything, Everything
Select the Topic in Knob and  post, It is shown here too. Useful Knowledge Posts are Approved without any fee. This page is an Aggregator of all topics. Promotional Posts or Ads is 60 USD. If you wish to just promote a Product. Website or Service, Post right below at Buzz or use Beep. Focused Ads at Knob.
---
22 entries.
The James Bond set of Films with Roger Moore have been influenced by the Spirit of Nostradamus.
Moonraker
has beams that have a very subtle semblance to SpaceX.
A View to a Kill
portrays Zorin Industries that has a faint likeness to SoftBank.
Use SSL and ensure that your website is on https: and http: is redirected to your https: site. Visitors coming your Non-SSL http: site could be misled and redirected to other dubiously promoted company websites. These companies hire Viral Traffic generation services of digital and social media firms.
Websites, Web Applications and Plugins should be developed in such a way that all scripts, images, css etc. load from the same domain. Using external services and libraries to load elements will make the Website or Application unreliable, unpredictable, slow and vulnerable for hacking and hijacking.
Comedy Adventure Movies are difficult to make but enriching for the mind. Avoid watching movies centered around Violence, Horror, Sentiments, Passions and Emotion. These movies disturb the Mind and mislead Gullible people. Such movies are made by unethical and greedy people for easy money and cheap publicity. These are not healthy for the human brain or a Healthy Society. Encourage Comedy Adventures, Romantic Dance Musicals and Comedy Fiction. Create Edutainment shows.
Do you remember Dick Emery ?
Web-browser, advanced e-mail, newsgroup and feed client, IRC chat, and HTML editing made simple. All your Internet needs in one application
SeaMonkey
. Such a software suite was previously made popular by Netscape and Mozilla.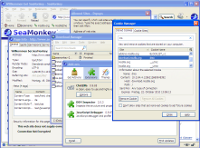 The Web is yours if you know the Seamonkey. Become a Webmaster today use the Seamonkey Composer and make HTML pages.
OTP on Mobile Networks with Smartphone is an unreliable and insecure mode of Authentication. SIM Swapping, Forwarding and Redirecting of SMS messages. Third part Apps ability to read SMS, with or without permissions. Total Phone ID and account Hijacks like unauthorized transfer of ownership has become common. Use Email HOTP and Authenticator TOTP Instead. This One-time code can be generated even on a Tablet Computer.
Cloudy Clues Part 2
Keep data in cloud services of smaller firms or setup your own cloud storage. Companies have to create their own private cloud servers. These big billion corporations like big data and they have their own analysts and data diggers. They also make large strategic investments in many companies. Is it more explicit than i can imagine ?
Cloudy Clues Part 1
Centralized Cloud Storage Services like Google Drive, iCloud and OneDrive pose high security and privacy risks to the common man. One corrupt company executive, one compromised offshore destination or one greedy insider can put the life of the Layman in peril. This has to be emphasized more as these sync data to the vulnerable smartphone.
The Smartphone has become the Devil's own Playground, every commercial app a hobgoblin. Look where you are going. Keep Location and data turned off when not in use. Switch to power saver mode. Uninstall apps that need too many permissions, careful about the permissions of location, wifi passwords, contacts and SMS access. Never use the Smartphone for Banking and Financial transactions.